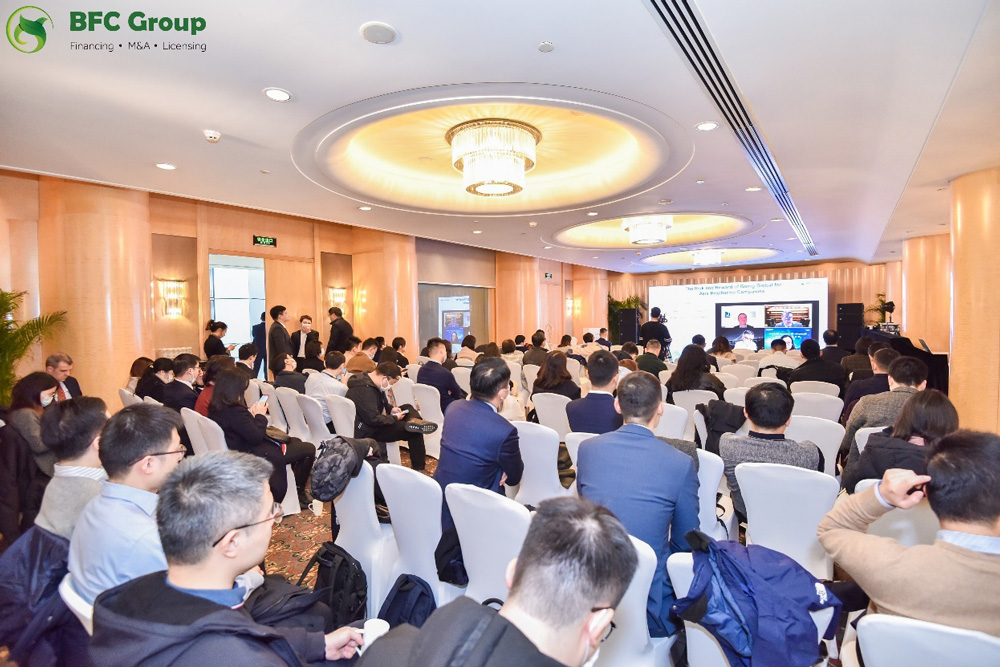 SHANGHAI, China, (January 10, 2022) - BFC Group successfully held the 5th Annual BFC Global Healthcare BD & Investment Conference in JW Marriott Hotel Shanghai at Tomorrow Square. This is an annual event of BFC during the JPM Conference. For this year, our conference combined the virtual meeting with onsite discussion. All the panel discussions are now available at our conference website and company roadshow videos will be available till the end of January.(http://2022sf.bfcconference.com/)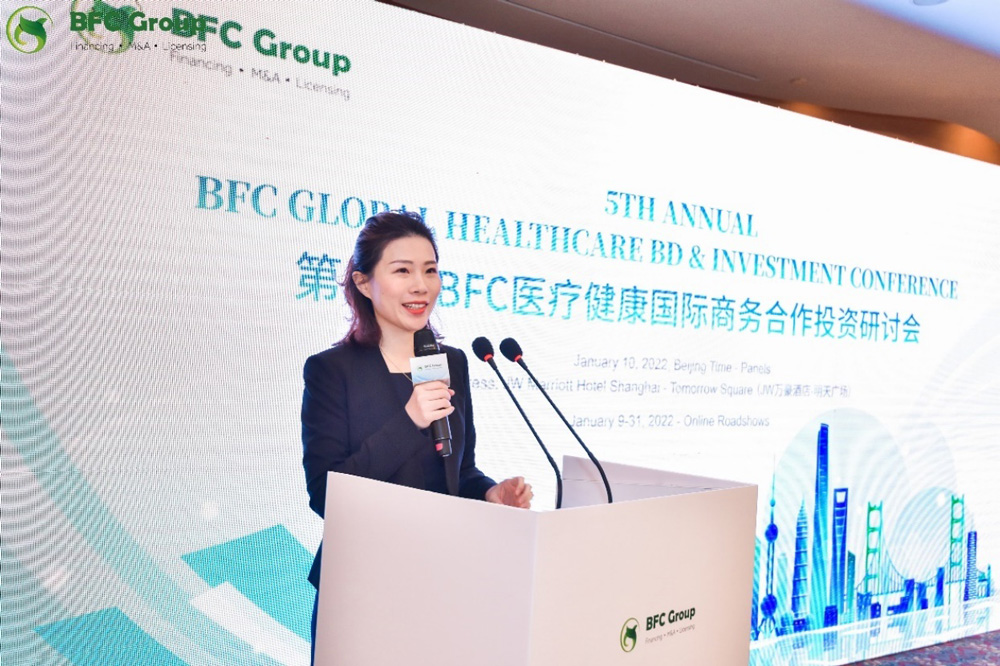 Experienced industry leaders, professional investors and investment banking executives were invited to share their insights of global biotech capital market trends, the risk and reward of going global for Asia biopharma companies and how to properly structure a licensing deal. Over 200 healthcare professionals attended our meeting with online live stream broadcast to more than 2000 audience worldwide.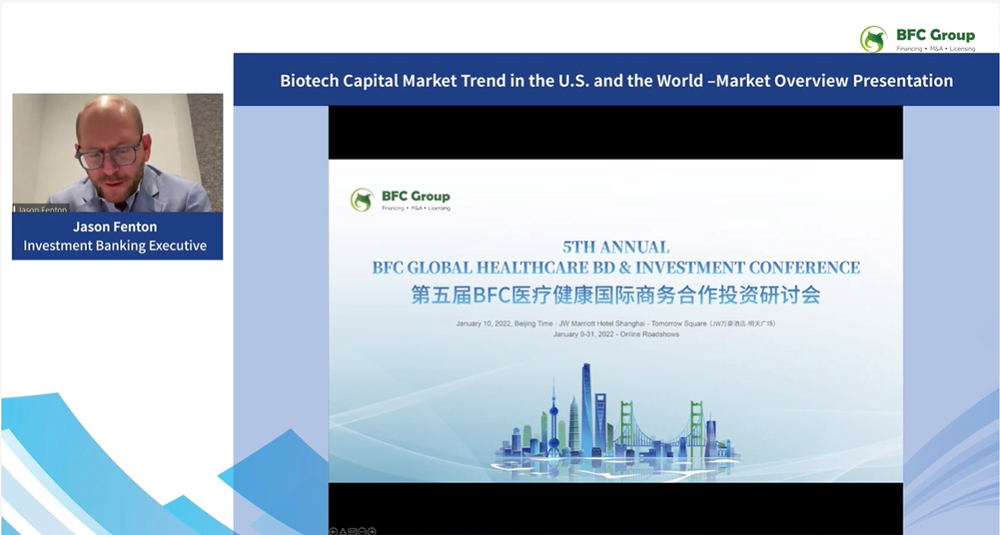 The conference started with an opening remark made by Jason Fenton, an experienced investment banking executive. Jason provided a comprehensive overview of the trends in biotech capital market in the U.S. and APAC. In the past several years, the market witnessed significant increasing in both total market capitalization and number of biopharma companies. Jason indicated that the industry growth is strongly net positive, suggesting strong innovation trend in the biotech sector. However, with the microcap universe expanding (275 firms were valued below $250M in 2021), investors will need to spend more time sifting for diamonds. Meanwhile, nearly $20B of new capital poured into biotechs in 2021, down from $32B in 2020. The "terrible" market still maintained a good performance financing.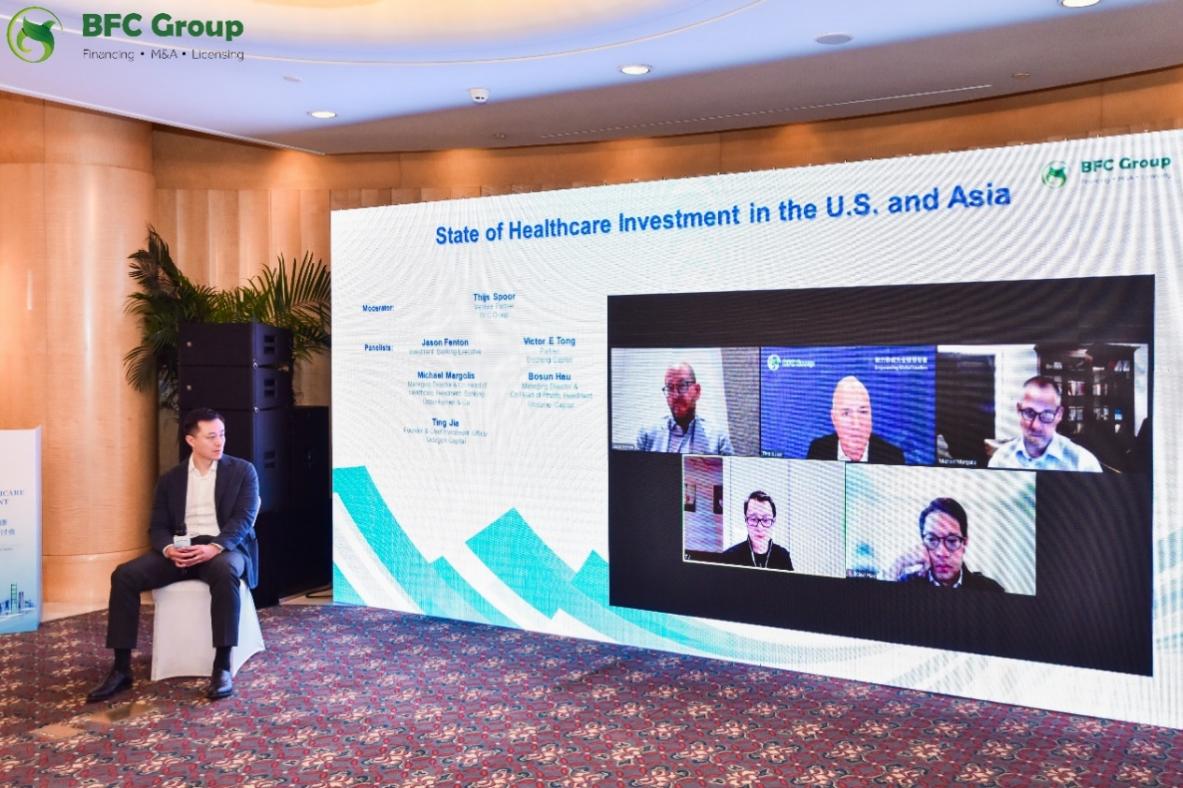 Panel 1: State of Healthcare Investment in the U.S. and Asia
Moderator: Thijs Spoor, Venture Partner, BFC Group
Panelist: Jason Fenton, Investment Banking Executive
Victor E Tong, Partner, Decheng Capital
Michael Margolis, Managing Director & Co-Head of Healthcare Investment Banking, Oppenheimer & Co.
Bosun Hau, Managing Director & Co-Head of Private Investment, Tybourne Capital
Ting Jia, Founder & Chief Investment Officer, Octagon Capital
Followed by an overview of IPO market in the U.S. and Hong Kong, Thijs Spoor, the venture partner of BFC Group, along with other five panelists from leading investment all agreed that 2021 was a tough year, many companies getting public this year were trading below IPO prices but they are still optimistic about 2022 and beyond. Regarding the private investment sector, regulatory uncertainties still over hang in China, investors will still care about value and take the wait and see strategy. But on the positive side, a lot of business development deals were done in a way that MNCs licensed in best-in-class molecules from biotechs in China. It is a testimony that the R&D capabilities in China is improving. 2021 also witnessed SPAC as a popular way to get public, but ultimately it is about the asset and people.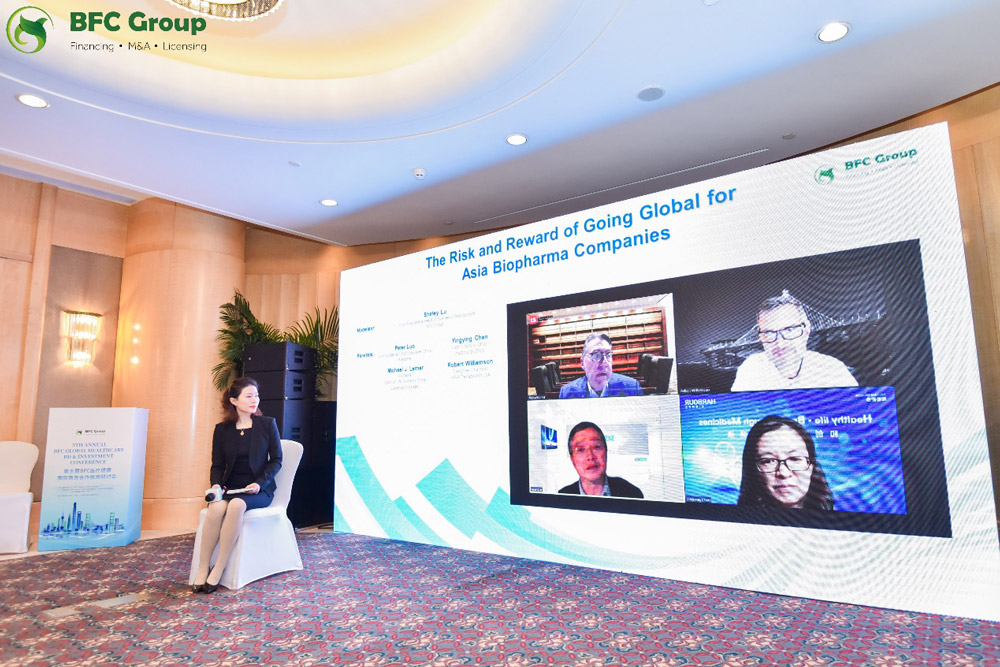 Panel 2: The risk and reward of going global for Asia Biopharma companies
Moderator: Shirley Lu, Vice President & Head of Business Development, BFC Group
Panelist: Peter Luo, Co-Founder & Chief Executive Officer, Adagene
Yingying Chen, Chief Financial Officer, Harbour BioMed
Michael J. Lerner, Partner & Chair of Life Sciences Group, Lowenstein Sandler
Robert Williamson, Executive Chairman, HAYA Therapeutics SA
Executives from several biotech companies as well as law firm gave their professional advice on the risk and reward of going global. The panelists shared their own experiences in licensing deals, providing inspiring insights. Going global can bring companies with cash, endorsement, validation as well as larger market share. However, the risk that the asset would face when going into the global market is other side of the coin. Robert Williamson, the executive chairman of HAYA Therapeutics, believes the right time for companies to out-license their assets is when you don't want to do a deal, but the partner will make your asset more valuable. For Peter Luo, the co-founder and CEO of Adagene, the two most important features in an asset are differentiation and data. The best rather than the fastest product is what the market values, while the data which requires time and experience is always the most persuasive point.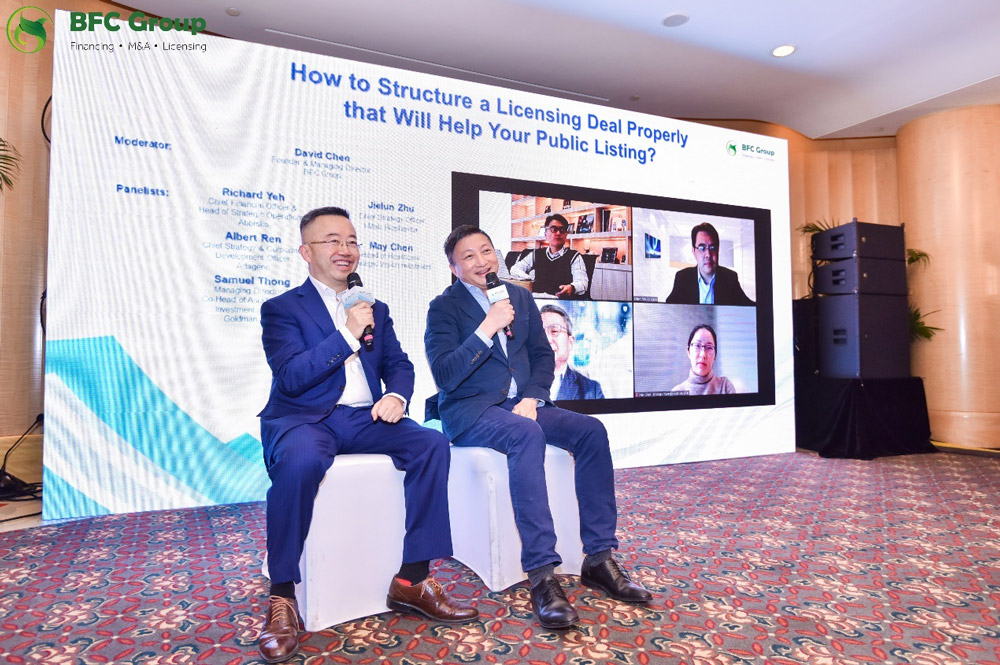 Panel 3: How to structure a licensing deal properly that will help your publiclisting?
Moderator: David Chen, Founder and Managing Director, BFC Group
Panelist: Richard Yeh, Chief Financial Officer & Head of Strategic Operations, Abbisko
Jielun Zhu, Chief Strategy Officer, I-Mab Biopharma
Albert Ren, Chief Strategy & Corporate Development Officer, Adagene
May Chen, Head of Healthcare, Strategic Vision Investment
Samuel Thong, Managing Director & Co-Head of Asia Healthcare Investment Banking, Goldman Sachs
David Chen, the founder and managing director of BFC group moderated the third panel and had a thorough discussion with five experts from pharmaceutical companies and investment firms on the topic of how to structure a licensing deal properly that will help your public listing. Richard Yeh, the CFO and Head of strategic operations of Abbisko said that collaboration with multinational companies will help small biotechs to raise their quality of operation, especially in the alliance management, compliance, quality of clinical development, strategy and commercialization, which altogether will bring biotechs to a next level. Jielun Zhu, the Chief Strategy Officer of I-Mab said doing sizable, meaningful, impactful out-licensing deals is definitely a way to grab people's attention and to help raise company's profile in the capital market.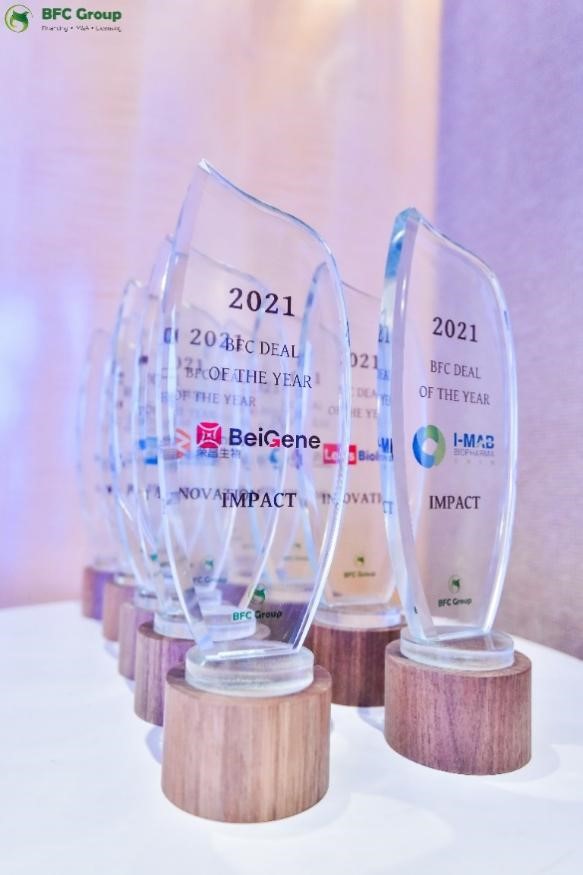 Last year, at the 10th anniversary of BFC group, we set up the award called "BFC Deal of the Year 2021". A professional and sophisticated committee was built to evaluate all the transactions from multiple dimensions including innovation, influence, deal synergy, deal value and other considerations. 10 transactions were eventually selected from over 300 BD deals. This award list is a snap shot of the 2021 healthcare licensing landscape in China. The complete award list is as below.
Award of IMPACT: I-Mab Biopharma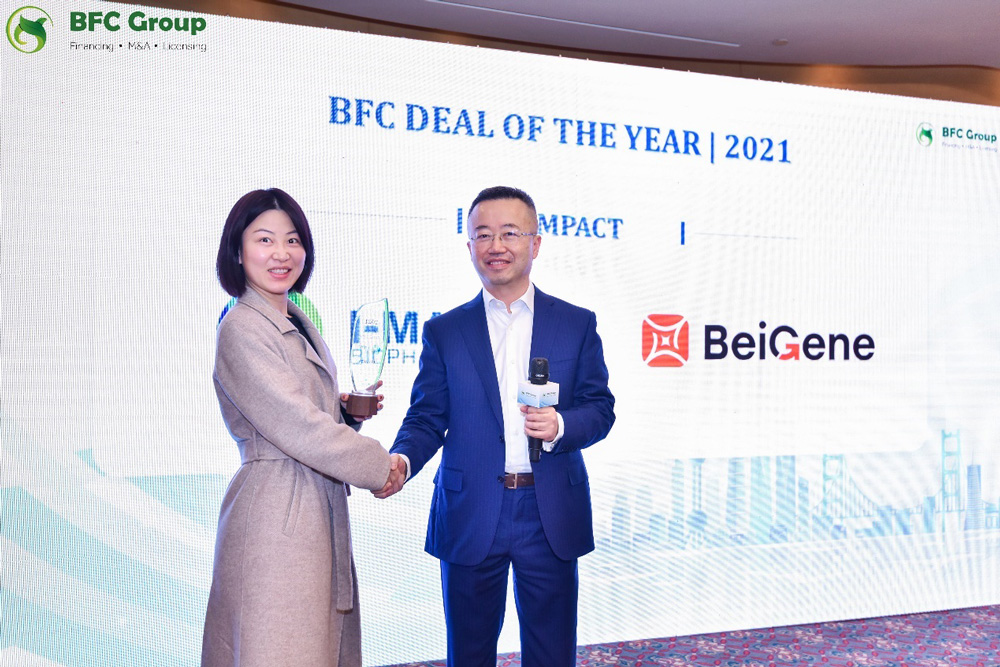 Award of INNOVATION: RemeGen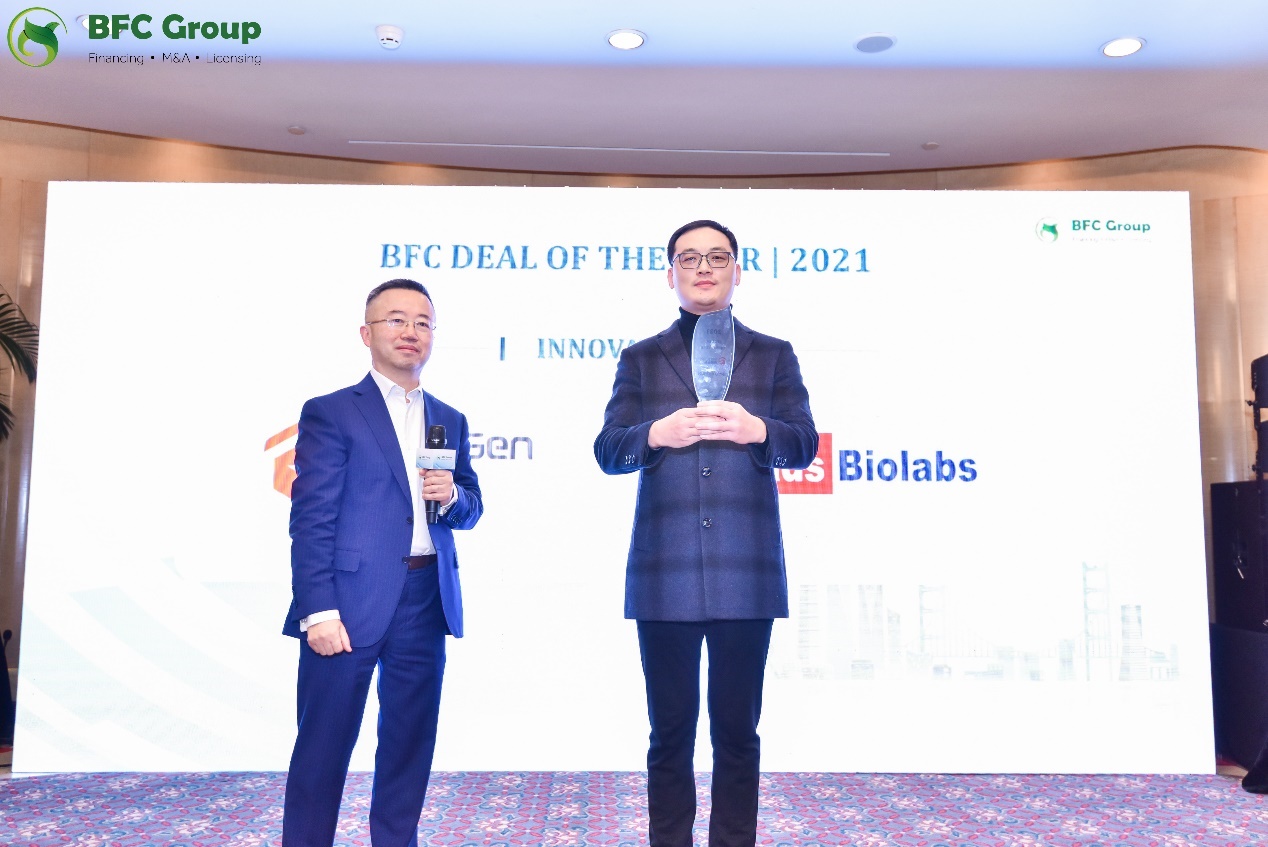 Award of INNOVATION: Leads Biolabs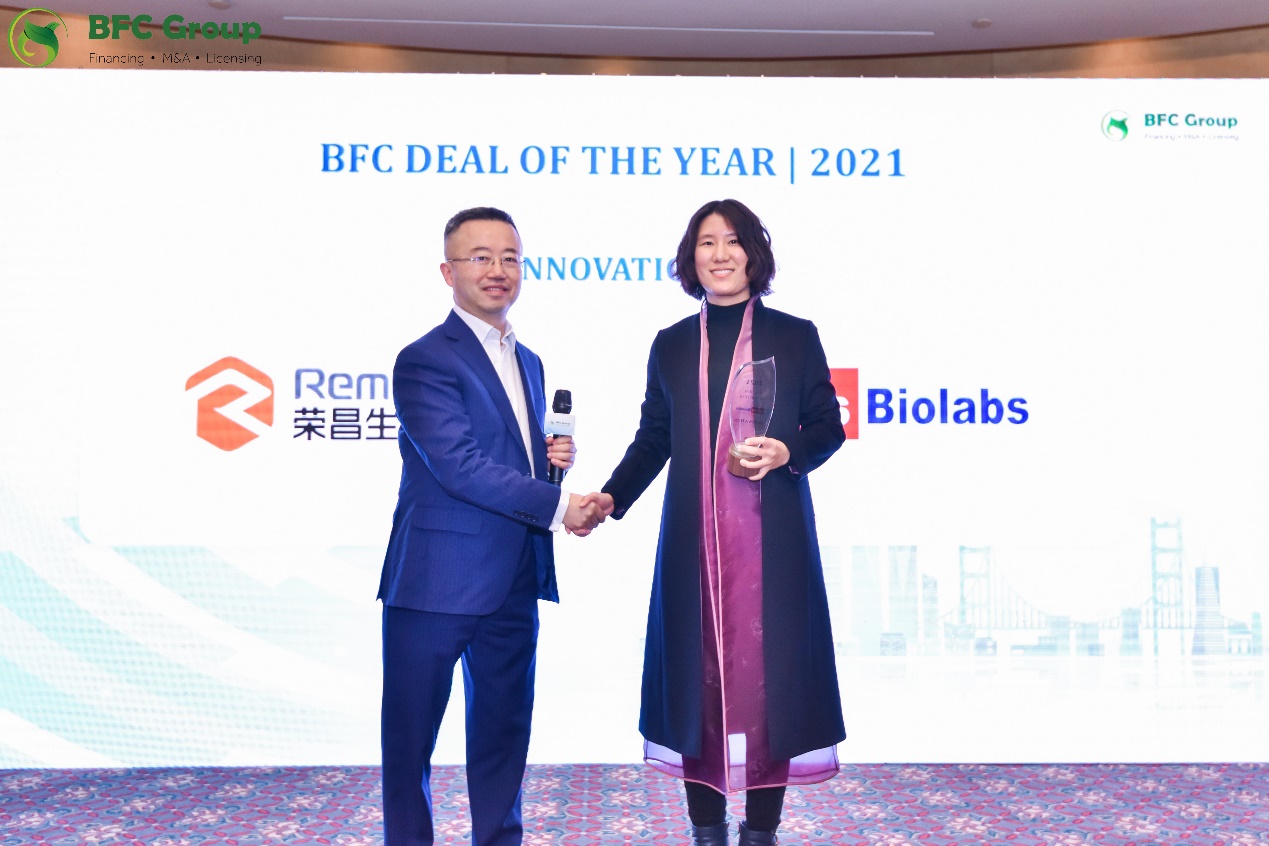 Award of CREATIVITY: Evopoint Biosciences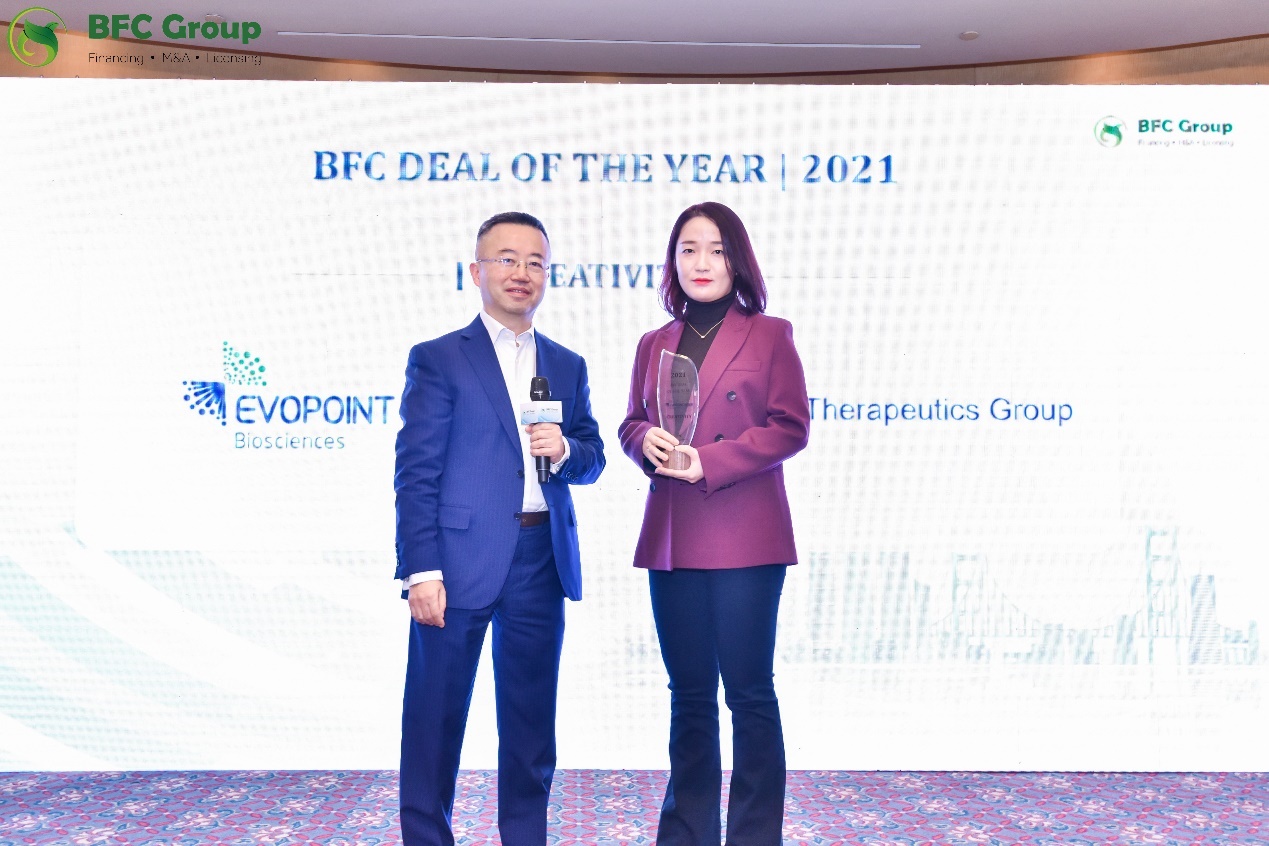 Award of INSPIRING: Biocytogen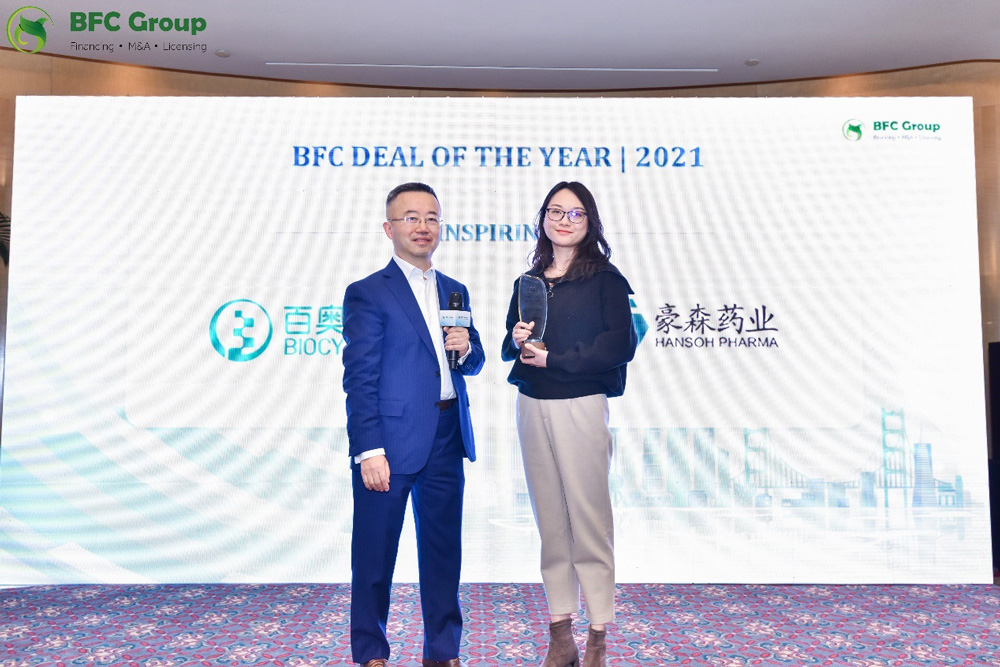 Award of CREATIVITY: Hansoh Pharma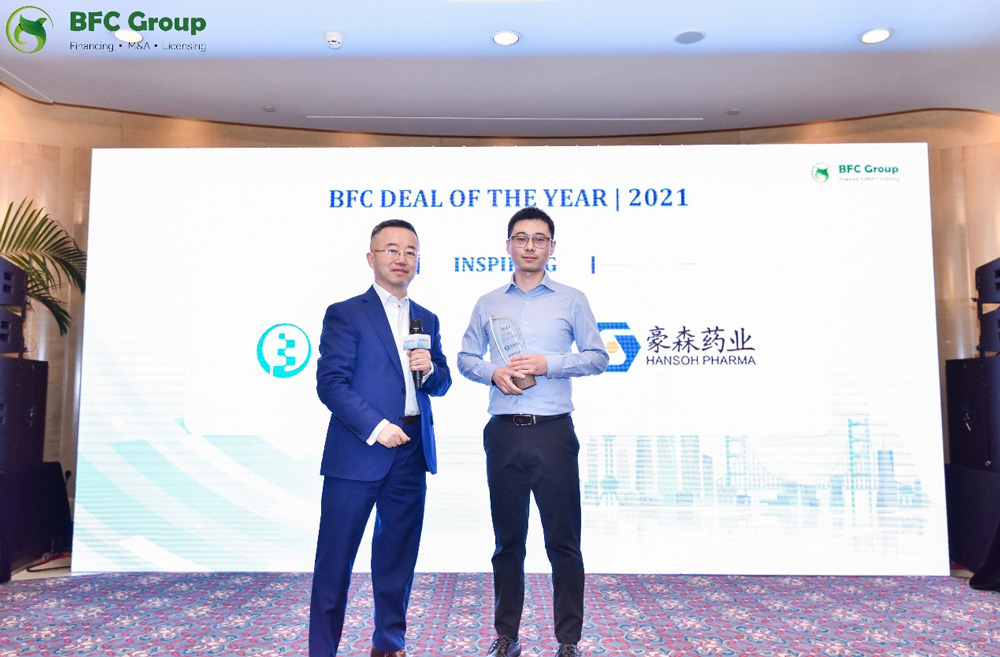 Award of ACTIVE: China Medical System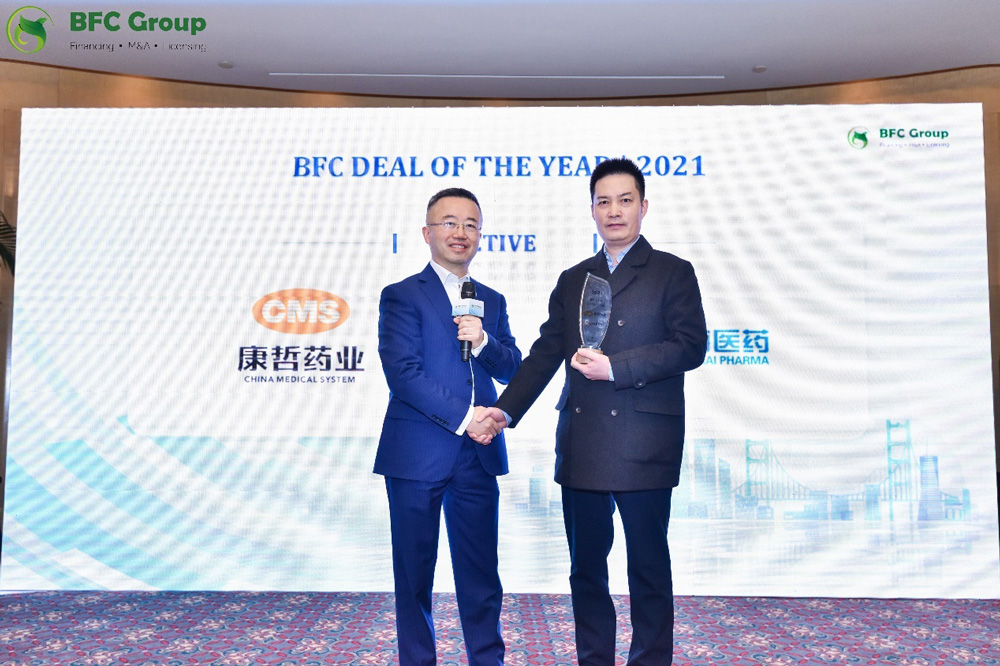 Award of ACTIVE: Shanghai Pharma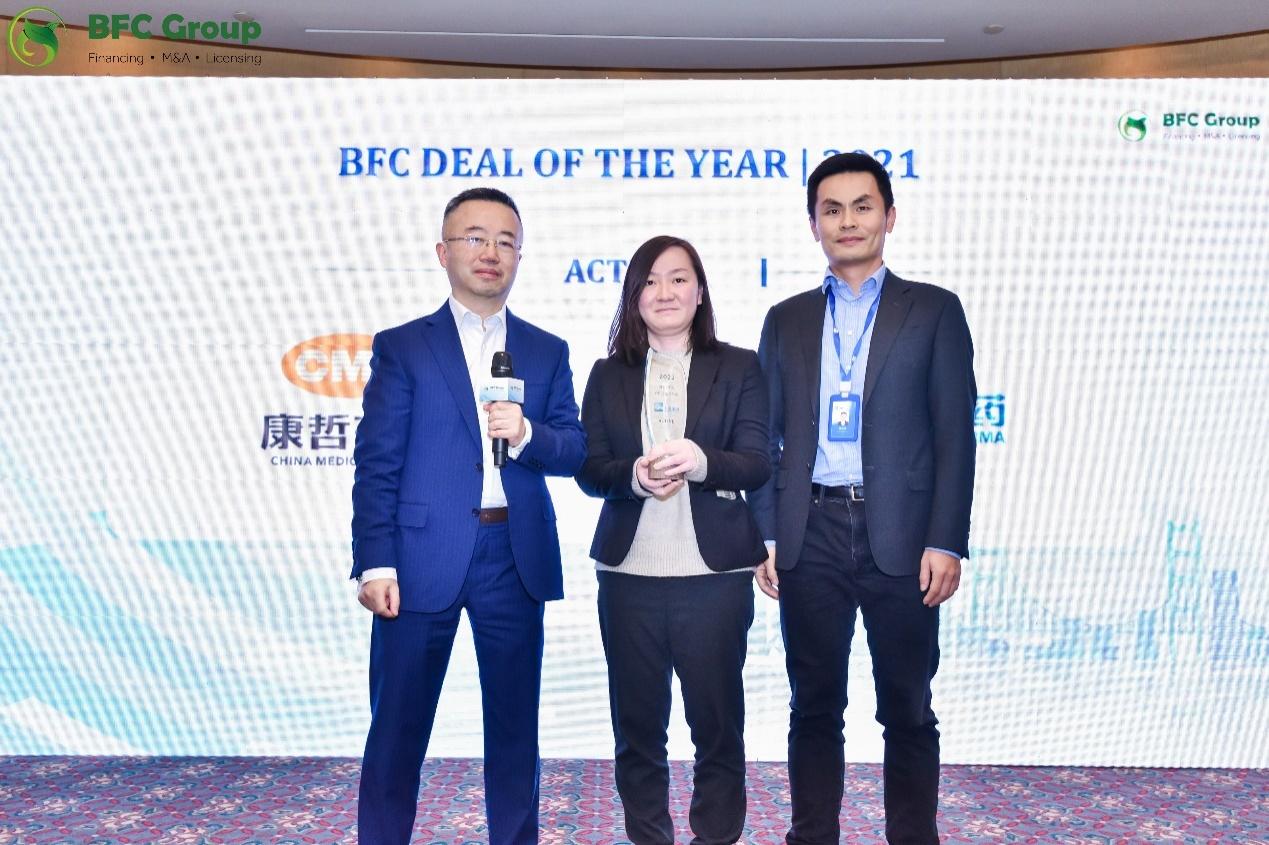 BFC Group is a China-based boutique investment banking firm with a focus on mergers and acquisitions, licensing, financing, and regulatory affairs. We work with leading healthcare companies and PE/VC firm in the U.S., Europe, and Asia, aiming to provide the best service to our clients.